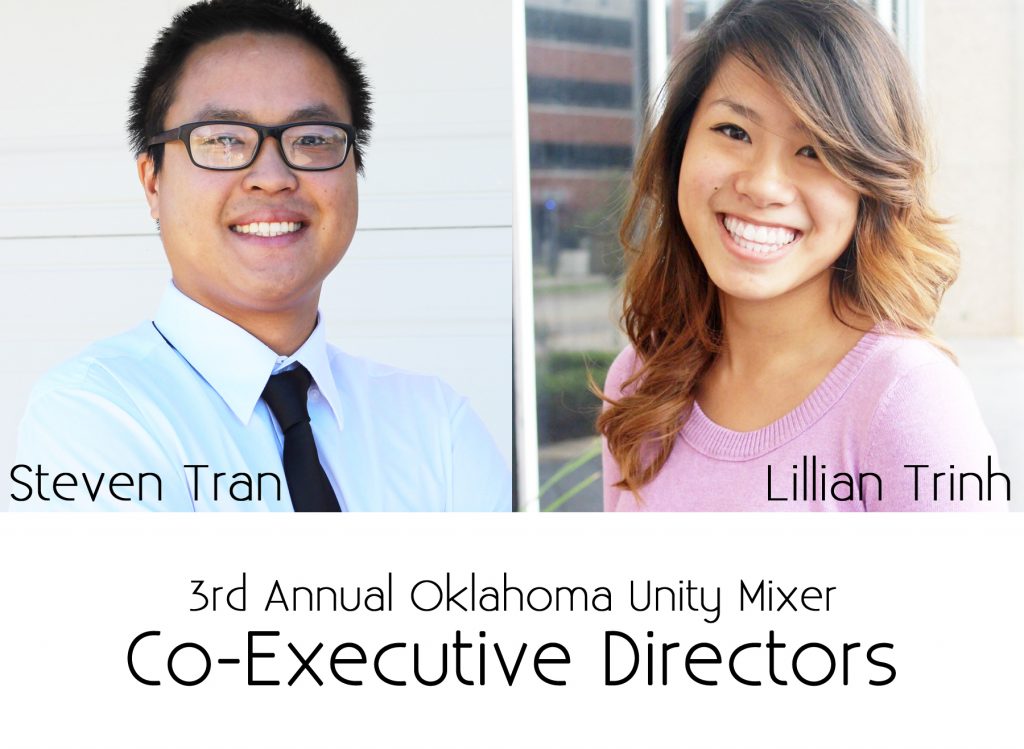 Meet Your 3rd Annual Oklahoma Unity Mixer Co-Executive Directors! These two individuals will be the ones who will guide the next OUM Staff in hopes to provide valuable resources and activities that will further connect our state and UVSA South region and help our family grow.
—Lillian Trinh
Lillian Trinh is a Senior at the University of Oklahoma. She is currently studying Letters Constitutional Studies Pre-Law. Lillian is a two-time former director for the Oklahoma Unity Mixer, as well as President of OU Filipino Student Association. Lillian's greatest passion is working with student organizations and empowering people to become leaders. Her passion was ignited when she was introduced to the Union of the Vietnamese Student Associations South by a good friend. Since then she likes to spend her time traveling to various schools throughout the region and getting to know as many as possible. She hopes one day she will achieve her dreams of becoming a Youtube personality and travel the world inspiring people.
—Steven Tran
Steven Tran is a graduate from the University of Central Oklahoma. He graduated with a Bachelor of Arts in Psychology and is working to prepare for graduate school, in the upcoming year. Steven has a growing passion in inspiring others to expand their horizons, and discover more about themselves, helping them reach to heights that they have not reached before. He has been the president for the Asian American Student Association at UCO, and worked to inspire students to make them feel welcome to the organization. He was also the Logistics Director for the 2nd Oklahoma Unity Mixer, and worked to organize the rooms and location for the event itself. Steven has made it a part of his mission to fully understanding those around him, helping those in need, and where his friends are in need of someone to listen to, he will try to be there for them.
——————–
Stay tuned for the official staff application release for Committee Directors and Committee Member positions! Be sure to like, follow, and share our posts for all to see. Opportunities in Oklahoma are growing and we want you to be a part of it!
For any questions or comments, feel free to contact us at okunitymixer@gmail.com